By:
Staci Daniels-Sommers, MSW, LCSW
Originally Posted:
Dec 14, 2021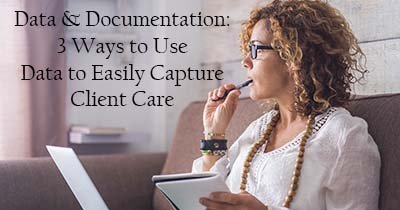 Documentation is not my favorite part of my job as a clinician, but it is a necessary part. It is not only a legal and ethical obligation, but it's helpful for me, my clients, and the systems that we have to interact with for treatment to move forward. While documentation can be cumbersome, the data I get from Vista's surveys helps me document what's most important:
Am I Helping My Patients?
Vista collects information directly from the patient from the moment they begin care and continues through treatment until discharge. (Vista also collects post-treatment data! Learn more about post-treatment outcomes here.) Here are three ways data from Vista can help clinicians with their documentation.
Initial Evaluation
Vista's multidimensional intake questionnaire allows patients to self-report their pre-treatment experience with clinical staff. Clinical staff get a wealth of data about their substance use history, including substances used and the frequency of use. Patients also share their motivation, which allows clinicians to assess where they are in the stages of change. Vista uses academically validated scales to screen for 7 specific mental health symptoms, including depression, anxiety and suicidal ideation, to support the discovery and diagnosis of mental health conditions. Patients are also asked questions about their close relationships, social environment, educational or occupational circumstances, access to health care, and legal concerns, providing clinical staff with a strong foundation for understanding the client's world.

Collecting all the data up front streamlines documentation of initial assessments and diagnosis as well as appropriate level of care placement, and allows for more precise treatment recommendations. Vista provides clinicians with client-reported data that's easy to review and then use across any system of assessment that may be required by payers or other stakeholders. Patients can even complete their intake questionnaire prior to their first appointment, allowing clinicians and intake staff to have rich assessment data before patients walk through the door.
Treatment Planning and Tracking Progress
Vista allows for the quick transition from understanding the client's history to understanding their present experience. After they complete their first, brief progress monitoring survey, clinicians have a baseline. The baseline information can be used to identify appropriate goals and objectives, making them specific and easily measured. Here's an example: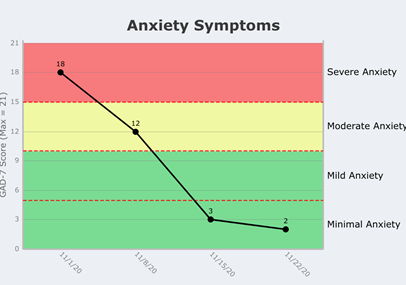 If we learn from the intake questionnaire that a patient's reason for coming to treatment is a recent relapse, a goal might be to, "Develop an increased awareness of relapse triggers and the coping strategies needed to effectively deal with them."*
A complimentary objective for the goal might be to, "Report increased tolerance for uncomfortable emotions as evidenced by a decrease of GAD-7 score."
As we work with this client, we can document progress by simply reviewing the GAD-7 score right on the client dashboard.

The best part about this is clinicians are partners with their patients in this journey. Patients are self-reporting their experience while the clinician facilitates the space to make sense of where they've been and where they can be. The software allows for clients to take the survey as often as necessary, even multiple times a day if needed.
Readiness for Discharge and Discharge Planning
Tracking patient progress over time helps to see clearly if they have stabilized or made appropriate progress to move into their next stage of recovery. Showing patients their Vista reports is a client-centered approach that allows them to see how your referral recommendation can help them continue their journey.

When appropriate, and with patient permission, you can easily share a PDF of their report with the next level of care to help streamline the transition. Patients also complete questions at discharge related to their treatment goals, specifically do they feel like they've met their goals and did their clinician talk with them about their goals along the way.

From intake to discharge, Vista provides useful information that gives clinicians what they need to easily capture the important work we're doing as we walk alongside our client in the recovery journey. Want to learn more about Vista and its clinical tools? Please reach out!

Staci Daniels-Sommers, MSW, LCSW
Chief Clinical Officer


* Jongsma, A. E. (2006). The Complete Adult Psychotherapy Treatment Planner, 4th edition. John Wiley & Sons.