Negotiating Value-Based Reimbursement Agreements with Commercial Insurers
Insurance companies have been pursuing value-based reimbursement agreements with primary care physicians and numerous specialty practices for years.  Unfortunately, despite their loud proclamations to the contrary, few insurers have been willing to negotiate these types of agreements with centers that have hard data showing how effectively their treatment helps patients recover from addiction. Vista's outcomes research data is up to date and often conflicts with older insurer-based data.
Insurers have a very bottom-line focus and, for at least the time being, centers who want to be preferred providers should probably plan to negotiate on the basis of how much their treatment reduces their patients' need for future Emergency Department visits, unplanned hospital stays, and additional SUD treatment episodes.   An ongoing challenge with this, of course, is that the insurance company is going to base their decision on their own claims data, which they may or may not share with the center.
Vista's outcomes research aims to partially level this playing field by using patient self-reported data to estimate what the insurer's claims data shows.  Vista's annual reports compare the number of expensive medical interventions in the pre-treatment and post-treatment years for patients who responded to Vista's outcomes survey requests: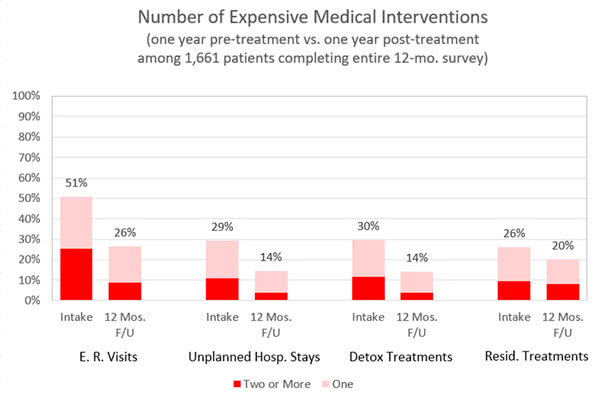 Negotiating with Self-Insured Employers
At least in the short term, employers who are directly paying some or all of their employees' health care costs are likely to be more receptive than commercial insurers to negotiating preferred agreements with treatment facilities on the basis of post-treatment abstinence.  Fortunately, this market is large and grew substantially in 2020: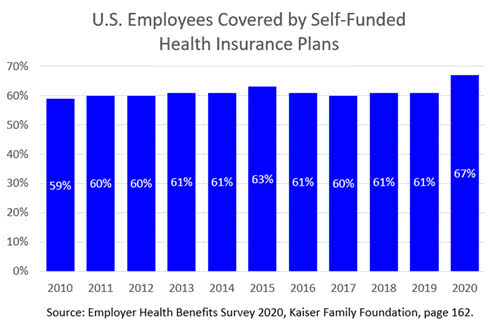 Payer Financial Analysis
For centers whose patients are reporting substantial reductions in their use of expensive medical interventions in the post-treatment year, Vista can prepare a detailed 12-page Payer Financial Analysis that estimates how much the payer likely saved per member who attended that center's SUD treatment the previous year.
The Payer Financial Analysis uses recent cost estimates for SUD-related medical interventions in the center's region as well as information about patients' underlying medical conditions to project savings per member.  The report also contains scores for HEDIS measures of importance to the payer and showcases patient improvements in social determinants of health resulting from treatment.
Unlike the majority of other services that Vista provides, there is an additional charge for this customized report.