Originally Posted:
May 18, 2021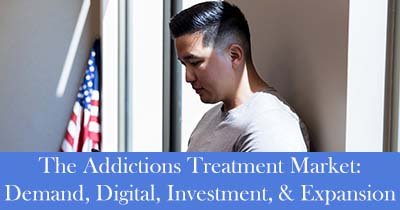 The pandemic has not changed the drivers in the addictions treatment market. Demand for services was on an upward path—and has been accelerated during the past fourteen months. New digital tools are coming to market. And, investments in addiction treatment and expansion of existing addiction treatment provider organizations are continuing. The big question is how do consumers and health plan managers view these changes.
There isn't good data about the incidence of addiction during COVID-19. But we do know that substance use is up, and that there has been a steep increase in drug overdoses. Preliminary analyses suggest that last year's total overdose deaths could have exceeded 90,000—up from 70,630 deaths in 2019. Overdose deaths across the U.S. increased by 33% and 24 states and the District of Columbia had an estimated increase of at least 30%. Arizona, California, Colorado, Illinois, Texas, and Washington reported increases above 35% (see The Spike In Drug Overdose Deaths During The COVID-19 Pandemic & Policy Options To Move Forward).
Executives of provider organizations, health plans, and state and local government are all pondering what the post-pandemic treatment landscape will look like. Like much of the "next normal" landscape, we're seeing more of key pre-pandemic developments—more digital services, more investments, and more expansions by provider organizations.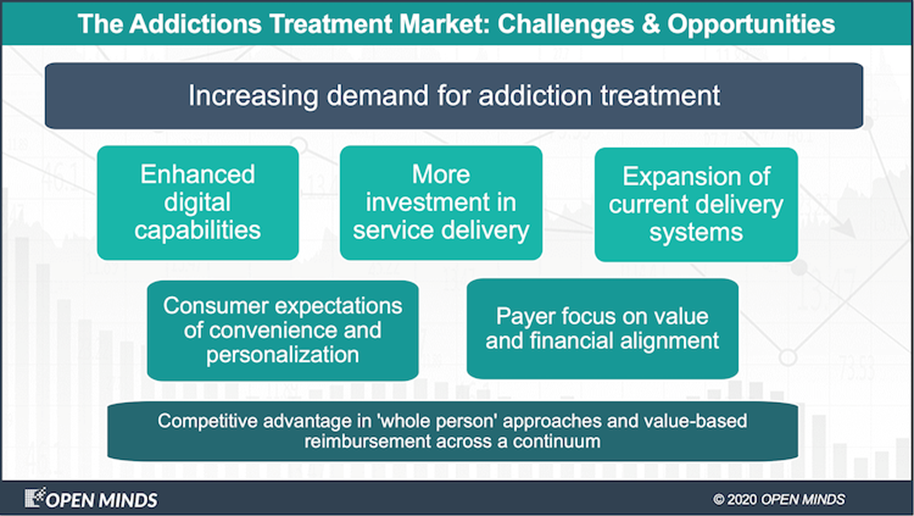 Addictions treatment is on a digital path. Technology is making an impact on addictions treatment in a number of ways—in treatment technology, in addiction recovery apps, and virtual services delivery. One example is Pear Therapeutics' FDA-authorized prescription digital therapeutics for addictions treatment and OUD, recently adopted by the states of Ohio and Indiana (see Ohio Department Of Mental Health & Addiction Services Will Provide Access To Pear Therapeutics Prescription Digital Therapeutics For Addiction Treatment and Pear Announces Indiana Family & Social Services Administration Division Of Mental Health & Addiction Will Provide Access To Prescription Digital Therapeutics For Substance Use & Opioid Medication Addiction).
There are also a number of free or low-cost addiction recovery smartphone apps that are giving consumers 24/7 access to self-help and tracking tools, 12-step programs, motivational tools, and reminders. Sober Grid, SoberTool, Nomo, WEconnect, rTribe, 24 Hours a Day, are just a few tools (see Top 6 Smartphone Addiction Recovery Apps). Alcoholics Anonymous is online and joined by a host of other online sobriety support groups—Self-Management and Recovery Training (SMART), Loosid, LifeRing, Club Soda, Women for Sobriety, and Tempest are the top-rated (see Best Online Sobriety Support Groups). And, at-home video collection drug testing kits and services are enabling virtual treatment options (see New York's Rockland County Awards Alcohol & Drug Testing-Video Collection Services Contract To Technical Resource Management).
We are also seeing the emergence of virtual platforms (a lá Talkspace, Ginger, and Lyra Health) in the addictions treatment space. Workit Health provides online therapy as well as medication assisted treatment for alcohol and opioid disorders via telehealth with at-home home drug testing (monitored by video) and prescription delivery. Workit takes Medicaid in some states and most commercial insurance, and offers workplace programs (see Workit Health Receives Grant Funding From OhioMHAS To Expand Innovative Telemedicine Addiction Treatment). QuitGenius, which started as a smoking cessation virtual platform, now offers virtual at-home treatment for alcohol and opioid addictions with cognitive behavioral therapy, medications, and a connected breathalyzer. The length of the treatment is tailored to consumer needs (see New Quit Genius Survey Of U.S. Workers Finds That 38 Percent Are Drinking More Alcohol During Pandemic; Over 1 In 4 Remote Workers Have Gone To Work Impaired By Alcohol Or Drugs). And, Mindoula, a digital health company, acquired 180 Health Partners and its Strongwell programs that provide a virtual community of peer supports and help with navigating services (see Mindoula Acquires 180 Health Partners & Its Strongwell™ Addiction Treatment Platform).
Private equity investments continue quarter after quarter. Investor interest in the addictions treatment market continues to be strong. In a recent investor survey, addictions was of high interest to 40% of start-up investors (see What Did Investors Spending $588 Million See In Behavioral Health?).
Not surprisingly, we've seen a number of acquisitions by private equity in recent months. Health Enterprise Partners acquired Aware Recovery Care, the pioneer of the In-Home Addiction Treatment (IHAT) model. Northlane Partners acquired Empower Community Care (see 29 Behavioral Health Industry Mergers & Acquisitions Were Announced In The First Quarter Of 2021). Vertava Health (an organization backed by private equity firm Summit Partners), acquired Memphis-based Integrated Addiction Care Associates, which provides outpatient behavioral health services in Tennessee, Mississippi, and Arkansas (see Vertava Health Acquires Integrated Addiction Care Associates In Tennessee). Recovery Ways, a Utah-based mental health and addictions treatment program (backed by the private equity firm Chicago Pacific Founders) announced four acquisitions—Omega Recovery, Breakthrough Recovery Group, Colonial Clinic, and Alpine Recovery.
Groups Recover Together, a national provider organization delivering value-based care for opioid addiction treatment, just raised $60 million in Series C financing. Oak HC/FT led the round, joining existing investors Bessemer Venture Partners, Transformation Capital, RRE Ventures, Optum Ventures, and Kaiser Permanente Ventures. The latest financing will help the organization grow from 12 to at least 17 states by the end of 2021 and roll out an enhanced digital experience to complement its network of brick-and-mortar clinics (see Groups Recover Together Raises $60 Million In Series C To Meet The Growing Need For High Quality, Affordable, Evidence-Based Opioid Addiction Treatment). Gallus Medical Detox Centers (a portfolio company of SCB Global Healthcare Services), providing customized inpatient medical detoxification programs for alcohol and drug addiction raised $4 million equity to open clinics in Las Vegas, Dallas, and San Antonio in addition to its existing clinics in Scottsdale and Denver, with additional clinics planned to be open in 2022 (see Gallus Medical Detox Centers Completes Equity Financing).
Addictions provider organizations are expanding. To keep pace with these market developments, existing addiction provider organizations are expanding the types of services they offer and their geographic coverage. Hazelden Betty Ford Foundation has continued to expand brick-and-mortar service capacity as well as virtual services through acquisitions and partnerships. One interesting partnership was with ARcare, a federally qualified health care center (FQHC) with primary care and behavioral health clinics in rural Arkansas, Mississippi, and Kentucky (see ARcare Joins Hazelden Betty Ford Foundation Addiction Treatment Provider Network). And, Hazelden expanded its telehealth services into Montana, Colorado, and Missouri (see Hazelden Betty Ford RecoveryGo Telehealth Program Expands Addiction Services In Montana and Hazelden Betty Ford Expands Addiction Services In Missouri). Hazelden is also starting a 4-year, $30 million project to include construction of three new buildings and updates to the grounds—in Rancho Mirage, California (see Betty Ford Center To Break Ground On $30 Million Expansion, Renovation).
But expansion comes in many forms. Eleanor Health opened two new locations in New Jersey and is partnering with Horizon Blue Cross Blue Shield of New Jersey as a value-based care provider organization to provide personalized treatment and support for addictions and co-occurring behavioral health disorders (see Eleanor Health Opens Two New Addiction Treatment Locations In New Jersey). Outreach Recovery, a large medication assisted treatment provider organization with 23 locations in Maryland, Pennsylvania, Virginia, and New Jersey recently expanded to Florida (see Outreach Opens New Locations Extending Now To Florida).
How are all these market developments reshaping consumer and payer expectations? Consumers are looking for easy access to services, affordable treatments (with insurance coverage), the ability to connect 24/7 to their clinical professionals or support sources, and treatment on their terms—at the location most convenient to them (at home, in brick and mortar clinics, or virtually) and for as long as they need it (no pre-determined, one-size-fits-all treatment regimens). Payers are looking for value—improved access and engagement of consumers in treatment, use of evidence-based practices, avoidance of emergency room visits and hospitalizations, and demonstration of outcomes. It is not surprising that the most of the "center of excellence" initiatives in the behavioral health space are focused on addictions treatment.
Traditional addictions treatment models are going to be challenged by the shift to case rate reimbursement (for both residential and outpatient care) and the ability for a cohort of consumers to receive detox and treatment services at home. Executives designing strategy for residential addiction treatment facilities are going to need to think about managing consumers with acute illnesses (and comorbid conditions) and about managing—both clinically and financially—across a continuum of care. While the market need is growing, the challenge of new competition is growing as well.
For more on strategies for sustainability in the "next normal," check out these resources in The OPEN MINDS Circle Library:
And for even more, plan to join us for the session What's New In Behavioral Health Treatment Technologies: The Shape Of Things To Come on June 15 at the 2021 OPEN MINDS Strategy & Innovation Institute. Matt Morgan, Chief Executive Officer, Vertava Health; Jesse Gould, Founder & President, Heroic Hearts Project; and Michele Novella, Medical Director & Owner, Star Psychiatric Healthcare will review the emerging trends in consumer treatment technologies, explore the new digital treatment options, and discuss how executives of provider organizations can incorporate new technologies into their strategy.
This reprint appears with the permission of OPEN MINDS. For more information, visit their website at www.openminds.com. To contact the author, email openminds@openminds.com.