Originally Posted:
Nov 20, 2018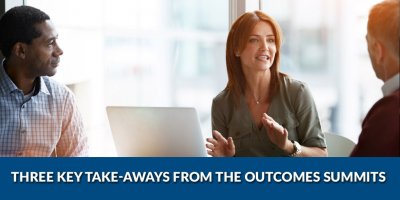 Vista Research Group held two Outcomes Summits for our addiction treatment clients this year, one last week in Los Angeles and one in Annapolis in June.  In addition to being a heck of a lot of fun (really!), we've learned several interesting things:
The opportunity for treatment center leaders to talk openly with one another about how they're dealing with different challenges is priceless.  Many of the biggest "aha moments" occurred during the Summits' less-structured brainstorming and sharing sessions. 
 
Armed with data showing how their center is performing versus norms, attendees can develop a very detailed performance improvement action plan during the two-day Summit.  In order to have a fully fleshed out plan, it is helpful to have 2 to 3 attendees from a center attend so that leadership, clinical, quality assurance and operations are all represented.
 
Clinicians can use their INSIGHT Addiction™ reports to easily identify clients at higher risk of leaving AMA.  A quick review of only two elements of each patient's report will identify patients at higher risk of walking out against medical advice in 79% of cases.  These findings are so significant that we're hosting a hands-on webinar on December 4th to teach INSIGHT Addiction™ users how to do this.  Please have all key members of your team register now to attend this 30-minute webinar:
Identifying Patients at Risk of Leaving AMA
Tuesday, December 4th at 2:00 p.m. EST
(1:00 CST; 12:00 noon MST, 11:00 a.m. PST)
We've tentatively scheduled three Outcomes Summits for 2019.  If you're interested in possibly attending one of these Summits, please express your interest and we'll make sure to remind you about the Summit a few months before:
April 17-18, 2019 in Annapolis, Maryland
July 17-18, 2019 in Salt Lake City, Utah
November 13-14, 2019 in Los Angeles, California

You can learn more about the 2019 Outcomes Summits here.  And if you're interested in having Vista conduct a strategic planning event specifically for your staff, don't hesitate to call us at (800) 215-3201!