Originally Posted:
Nov 20, 2021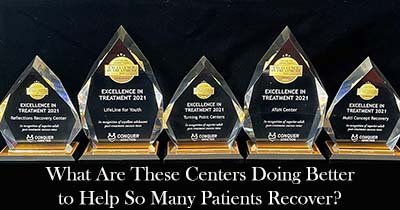 Culminating six years of effort helping addiction treatment centers measure and improve their success rates, last week's Conquer Addiction 2021 Excellence in Treatment awards ceremony was the highlight of my year (and great fun too!).  If you missed the celebration, you can watch it here:
Please join me in heartily congratulating the seven members of the Vista Research Network who earned 2021 Excellence in Treatment awards: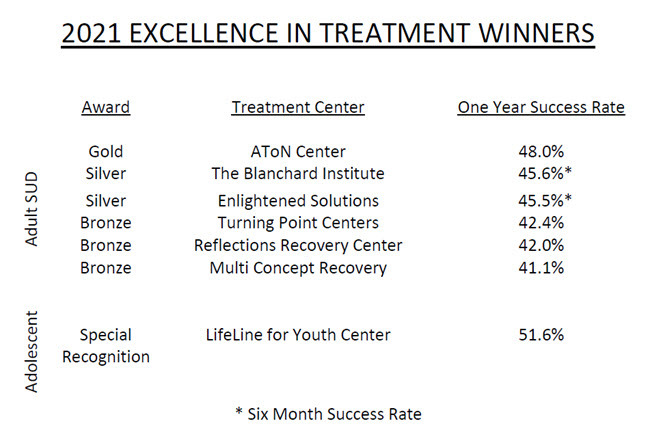 This is the third year that Excellence in Treatment awards have been presented, and it is exciting to see the number of applicants increase year after year. Even more gratifying is to see the improvement over time in the success rates reported by many of the centers. This is one more confirmation of the findings in Vista's "A Call to Action" report that centers which measure their outcomes usually improve their outcomes the following year.
I was particularly impressed with AToN Center's progression. AToN started measuring their outcomes in 2017 and the percentage of their patients who were reachable and abstinent for at least the last 30 days has steadily increased from 42.6% in 2019 (at 6 months post-treatment) to 44.4% in 2020 to 48.0% in 2021, (the latter two at one year post-treatment).

Each of the award winners was asked what they felt made their treatment so effective and the range of answers they gave was fascinating:
You (along with families searching for excellent treatment) can see each center's post-treatment outcomes and their explanation of what they think sets them apart on their Conquer Addiction page.
While each of these centers has their own unique point of differentiation, they all have one thing in common – each of them made the commitment at least a year ago to invest in measuring and continually improving the percentage of their patients who recover. If you're still telling yourself that you'll start outcomes research "soon", realize that you're falling further and further behind.
Until you start to scientifically measure your success rate, you can't begin to manage it.  Nor can you use your results to attract patients searching for effective treatment or payers looking for verified outcomes.  Don't you want to start 2022 doing real outcomes research?   See what you're missing.
Joanna

 
P.S.  In order to have a success rating on Conquer Addiction or apply for an Excellence in Treatment award, your center must be doing post-treatment outcomes research that complies with the standards set by Conquer Addiction's independent panel of judges.  Patients must be promised confidentiality, data must be collected using a standardized script, and success rates must be based on a randomly-selected group of patients who spent more than a minimum time (e.g., 7 days) in treatment.  You do not need to use any particular research company.  Adding your center to Conquer Addiction's website costs $199 per year.