Originally Posted:
Feb 19, 2016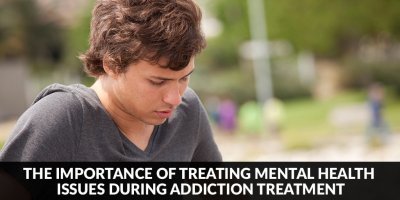 It is well known that a large percentage of patients entering substance abuse treatment are simultaneously dealing with one or more co-occurring mental health disorders, the most common of which is depression.  There is little agreement, however, on the exact percentage of SUD patients who suffer from mental health issues.   
 
Prevalence of Co-Occurring Disorders Among Addiction Treatment Patients

The lowest credible estimate is that 45% of patients in SUD treatment have a co-occurring disorder.  This estimate is based on the latest National Survey of Substance Abuse Treatment Services (N-SSATS) survey, in which treatment centers reported that 45% of their clients in treatment on March 29, 2013 had been diagnosed as having co-occurring mental and substance use disorders. 
This probably underestimates the prevalence of mental health issues, perhaps by a large margin.  In the same study, the Department of Veterans Affairs reported that 66.7% of their patients were being treated for co-occurring disorders.  While it may be true that veterans in substance abuse treatment have a higher rate of mental health issues than the general population, it is important to note that the Department of Veterans Affairs routinely screens every person going into substance abuse treatment for co-occurring disorders, while many treatment centers do not.  Most likely, treatment centers who don't screen all incoming patients for co-occurring disorders are missing some.
Regardless of the exact percentage, a more important question is how the presence of one or more co-occurring disorders should affect treatment.  Unfortunately, the presence of a co-occurring disorder makes the treatment process more difficult.  Not only does the therapist needs to help the patient commit to and learn how to stop using, they must also address their mental health issues.  And research shows that the presence of depressive symptoms not only makes it harder for the patient to stop using alcohol or drugs during treatment, it also increases the risk of relapse after treatment.
 
Depression Increases Relapse Rates
In a study by Marius Suter of 441 patients with Alcohol Use Disorder in Swiss long-term residential SUD treatment programs, the patients who had clinically-significant depressive symptoms at admission had both a significantly higher incidence of alcohol use during treatment and a much higher rate of post-treatment relapse: 

The good news is that if a patient's depressive symptoms can be alleviated, their likelihood of achieving long-term sobriety improves.   Research among 298 American male veterans completing 21-day residential treatment by G. M. Curran found that only 14% of the veterans who exhibited depressive symptoms three months after leaving treatment were able to remain sober for a full year.  By comparison, 28% of those who were not depressed at either the time of admission or 3 months post-treatment were able to remain sober for the full year: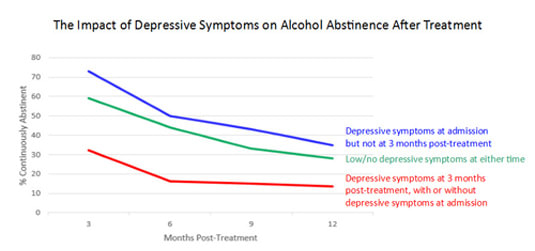 An extremely positive finding from this research is that patients who were depressed at admission but not three months after treatment had even better results than those who were never depressed.  The fact that 35% of this group were able to maintain sobriety for a full year after treatment shows how important it is to identify and resolve depressive symptoms during SUD treatment. 
 
INSIGHT Addiction™ Identifies Previously-Overlooked Co-Occurring Disorders 
 
A residential addiction treatment facility using INSIGHT Addiction discovered that many of its women were suffering from co-occurring disorders that they weren't aware of.  Identifying and treating these issues led to a substantial improvement in treatment results.  Learn more in this case study, "Patient-Reported Research Leads to Better Treatment of Depression and Eating Disorders":