Originally Posted:
Jun 8, 2021
The State of Addiction Treatment 2021 is Here!
How COVID Impacted Addiction Treatment
Vista Research Group started monitoring how COVID was affecting addiction treatment patients less than two weeks after the pandemic was declared.  We've summarized our findings from monitoring 13,077 patients during treatment and 3,574 after discharge in The State of Addiction Treatment 2021, which you can browse online or download here: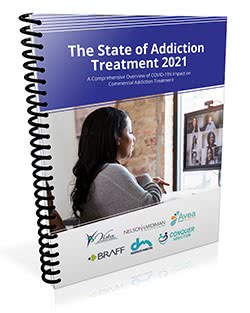 The 60-page report includes a wealth of information, including:
While providers have been working flat out to treat increasing numbers of desperately-ill patients, new regulations have been proposed and/or enacted, marketing strategies have changed in effectiveness, mergers and acquisitions have reshaped the field, and post-treatment outcomes research has proven its ability to increase success rates. To help treatment leaders successfully navigate the reopening of the country, the report also includes very informative chapters from Nelson Hardiman's Harry Nelson, Avea Solution's Ben Dittman, The Braff Group's Dexter Braff, Dreamscape Marketing's Dan Gemp and Conquer Addiction. 
We hope you find the report useful!
Joanna