Originally Posted:
Dec 22, 2021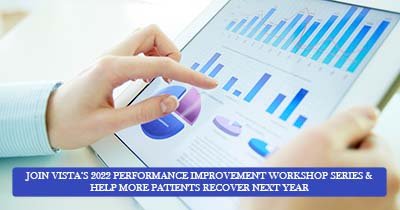 In these dangerous times when one pill kills, it's critical that your center provides the most effective treatment you possibly can.  Yet with a full census of desperately-ill patients, it's hard to find the time to step back and look for opportunities to improve.
I get it. To make this process as effortless as possible, Vista is offering a five-week Performance Improvement Workshop series starting the second week of January.  During five 90-minute online workshops, we'll walk your team step-by-step through the development of a detailed, data-driven Performance Improvement Plan.  By mid-February, you and your team will have agreed upon several performance improvement goals you intend to achieve during 2022 and exactly what you're going to do to accomplish them: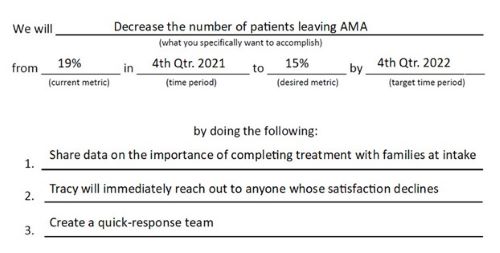 After the workshop, we'll help your team stay focused on meeting your goals throughout the year by updating your progress each quarter: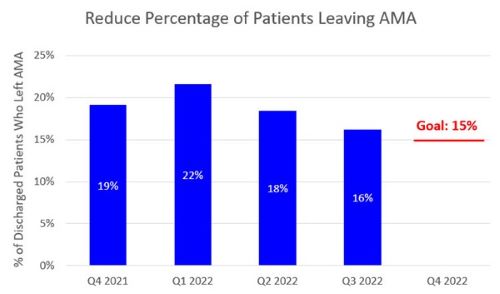 We received very positive feedback from the 50+ attendees of this year's workshop series.  Attendees particularly appreciated being able to talk with their peers across the country about the challenges they were facing and brainstorm creative solutions together.
This workshop is only offered once each year.  If you're already a Vista client and want to participate, please reply to this email with "we're in" and we'll add the $349 per center fee to your January invoice.
If you're not already a member of the Vista Research Network, let's get you going!  Watch our 20-minute demo, check out our pricing, and schedule an evaluation call.  Trust me, six months from now, you won't be able to imagine how you operated without Vista's real-time patient insights!
Happy holidays!
Joanna
P.S.  Ben Dittman, Dan Gemp, Harry Nelson, Dexter Braff, Glenn Hadley, and I received rave reviews of our Dec. 1st webinar titled "The State of Addiction Treatment Heading into 2022".  If you missed it, you can watch it now to catch up on all the latest changes in the fields of reimbursements, marketing, research, regulatory requirements, and mergers & acquisitions.