Originally Posted:
Jun 30, 2021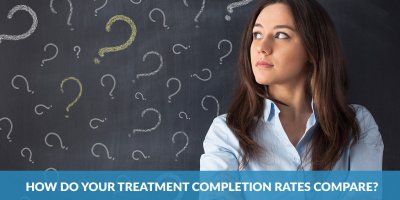 One of most critical elements for an addiction treatment program to manage effectively is the percentage of patients who successfully complete treatment.
As our research team analyzes treatment completion data for Vista clients, we see a wide range of treatment completion rates.  Among short-term residential treatment programs using INSIGHT Addiction™, for example, it's not uncommon to see the percentages of patients who successfully completed all recommended treatment range between 43% and 97% for different programs.  We also see substantial variability in treatment completion rates for programs providing long-term residential or IOP treatment as well as those providing a full continuum of care.
Treatment completion rate is one of the few addiction treatment metrics where excellent national normative data exists.  SAMHSA compiles information on roughly 1.3 million SUD patient discharges each year in its Treatment Episode Data Set: Discharges (TEDS-D).  According to the latest TEDS-D data, 52% of patients successfully completed treatment at short-term residential (< 30 days) SUD programs in 2018: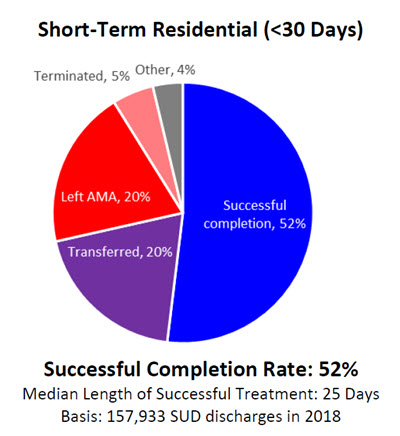 You can download an overview of the TEDS-D treatment completion norms for different addiction treatment levels of care.  Armed with this data, we highly recommend you compare your treatment completion rates with the national average for your type(s) of treatment.
Why does the percentage of patients who successfully complete treatment matter so much?  Because research shows that patients who successfully complete treatment are far more likely to remain abstinent after treatment than those who don't. 
For example, data from multiple treatment programs using Vista's RECOVERY 20/20™ outcomes research shows that the percentage of patients who are reachable and claim to be abstinent twelve months after treatment is dramatically higher among patients who successfully complete treatment: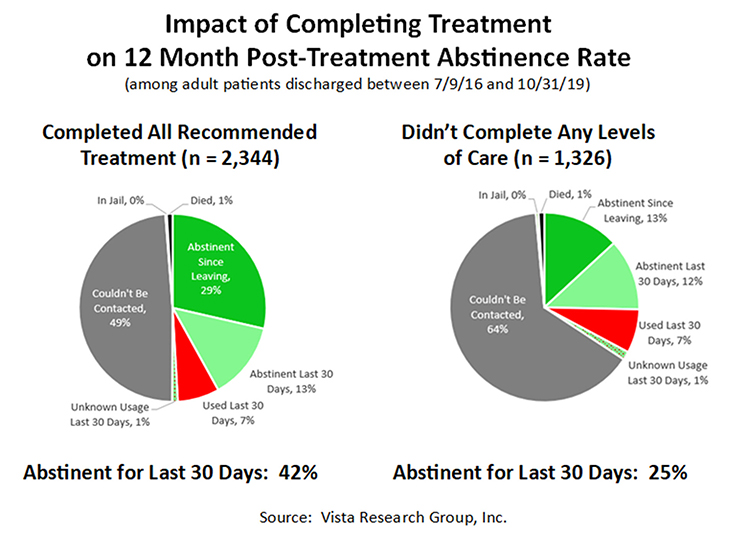 Because of this strong correlation between successful treatment completion and post-treatment abstinence, it is clear that one of the most important ways a treatment center can improve its outcomes is to focus on reducing the number of patients who leave treatment against medical advice (AMA).  Like most things, of course, this is only true up to a point – you don't want to allow trouble-makers who aren't serious about treatment to poison the recovery environment of your facility.
Vista runs a 5-week online Performance Improvement Workshop series for our clients every January.  After reviewing the data on 50+ patient-reported metrics available in Vista's data analytics platform, client teams work together to set specific performance improvement goals for the coming year as well as action plans to achieve them.  Our clients particularly enjoy the opportunity to brainstorm with peers from other centers possible approaches to issues such as reducing the percentage of patients leaving AMA.  If you think your center would benefit from attending this by-invitation-only workshop series, please don't hesitate to reach out.