By:
Staci Daniels-Sommers, MSW, LCSW
Originally Posted:
Feb 1, 2022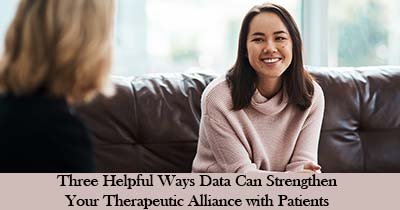 When completing an intake a couple of months ago, I joked with a 16-year-old patient and his parents, "If you don't like me, let me know and we'll work on a referral. This isn't going to work if you don't like me!" While my tone was light-hearted, I was sharing something important; our relationship matters.
Maintaining a positive relationship, or strong therapeutic alliance, with our patients is essential to positive outcomes. The American Psychological Association states, "…relationship factors—such as agreeing on therapy goals, getting client feedback throughout the course of treatment and repairing ruptures—are at least as vital to a positive outcome as using the right treatment method." (DeAngelis, 2019) Vista offers multiple opportunities for clinicians and treatment centers to ask for feedback and address any concerns.
Goal Setting
The initial goal-setting process is one of the first ways clinicians and patients can build a solid foundation for a collaborative treatment process. The Vista survey asks patients what led them to seek treatment and how committed they are to the treatment process. Clients will often elaborate on their hopes for treatment in the comment sections of the intake form. I often use the answers to these questions as a jumping-off point for the goal-setting conversation. We can use this information to help patients expand upon "I want to feel better," and help them think through where they would like to gain insight, what patterns they want to learn more about, or what they think "better" looks like when they imagine it.
Feeling There's Progress
Patients (and sometimes us clinicians) often struggle to see the "forest among the trees." During treatment, it's easy to get caught up in all of the things we'd like to continue to work on now that we have the clarity and space to do so.  It can be hard to see the bigger picture: insight has been gained about patterns and triggers, coping mechanisms are being questioned and modified, and personal narratives are being rewritten with better context and compassion. Symptoms are improving. I often share Vista results with the patient, so they can visually see their journey. I'll provide context with the notes I have about the skills they've applied and the challenges they faced. Sharing the Vista results with patients reinforces the collaborative, client-centered nature of treatment.
Repairing Ruptures in Treatment
All relationships, including therapeutic ones, experience misunderstandings. Clinicians have a special superpower in these situations; we can create an intentional opportunity for healing and growth for our clients. Conflict is a tool that if we lean into it, can be transformative. Vista provides a space for clients to share how they feel about their treatment progress by answering a Likert scale question or an open-ended comment section where they can elaborate on their experience. Successfully navigating therapeutic ruptures strengthens the alliance and supports patients in using tools used in therapy.
If the goal is the best outcomes for our patients, measuring their experience of treatment is vital. Vista's self-reported data makes connecting with our patients easier, encouraging true partnership during the treatment journey.